October 4th
Arrived in Deltaville with plans to get SunShower in the water and spend the night at Norview Marina. I asked if they could put me in a slip with a floating dock because last spring I stayed here on a fixed dock and could barely get off of the boat at low tide. The amicable staff put me in a a slip large enough for 50 foot yachts and there was one on each side of me!
October 5th
Today was the kind of day sailors live for! Blue cloudless sky, warm with 10-15 knot winds, 1-3 foot seas and a broad reach all the way from Deltaville to Cape Charles! I sailed SunShower farther today (23 nautical miles) than any time since we bought her. Saw a small menhaden fleet (3 ships) fishing at the mouth of the Rappahannock River and then a large fleet (10 ships) steaming up the Bay towards Reedville, I presume.
Got a slip in the Cape Charles Harbor Marina; a new massive floating dock complex that is really nice. I just hope they plan to build a better bath house and limit it to paying customers. The restrooms were basic but clean. Cape Charles is a beautiful town to walk around. It was first developed as a railroad center for the New York Railroad. The company ferried rail cars across the Bay by barge and then took them north by rail. The Eastern Shore Railroad continues operation to this day, however very sporadically. For decades it supplied Eastern Shore towns and took their goods to markets on mainland Virginia.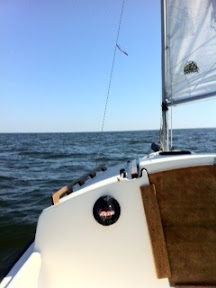 I have never sailed into Cape Charles before and it has been a goal for years; checked off as I write!
October 6th
Walked around Cape Charles this morning for exercise after breakfast and stopped in a coffee shop for a cup and wifi access. I do need my daily crossword puzzles even at sea. The winds shifted to the northeast over night so I headed across the Bay on a broad reach just like yesterday! It's a 15nm jaunt to Mobjack Bay and today's sail was exhilarating with 15 knot winds and 2-4 foot swells. The sound of SunShower plowing up the waves or surfing off them was mesmerizing; just a great experience. Once in Mobjack Bay, I plotted a course for the East River with porpoise swimming alongside. Anchored at a spot just downstream from a sailing, kayak and rowing center Matthews County is developing at William's Wharf, the site of an old ferry dock. It is a tranquil setting with Canadian geese honking their way north and a pair of owls hooting on the western bank. Sailing distance today about 20 nm.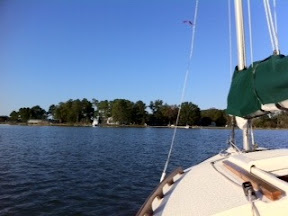 October 7th
Winds were in the 5-10 knot range today so I spent the time sailing and motoring around Mobjack Bay. Checked out the North River first then sailed across the bay to the mouth of the Severn River. The entire area is very unspoiled and rural; a very pretty setting. Got a slip tonight at the Severn River Marina. It is a small marina with basic facilities but it appears to have a bustling maintenance business. Looking forward to a shower and recharging my electronics! Thirty plus years ago I anchored with Garland in one of the rivers off of Mobjack Bay, but it all looks brand new to me now!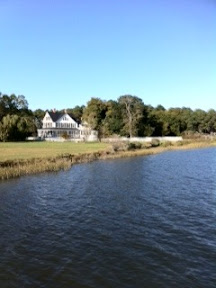 October 8th
It's time to make my way back north to Deltaville and the wind is forecast to be 5-10 knots from the.....NORTH! The day began with a beat out of Mobjack Bay, the only problem was I sailed out the southern end and made no progress north. So I motored to the New Point Comfort Light and since the breeze was pretty good, I tried to sail. Two beats brought me back to the same marker; SunShower could not make progress into the wind and waves. Hence, the motor was cranked again and hopes of reaching the "Hole in the Wall" were abandoned. I ducked into Horn Harbor and decided to stop at a marina for gas since I had motored quite a bit. Arriving three minutes before closing I pumped 5.5 gallons into a 6 gallon tank! Spent the night in a small quite anchorage just beyond the marina....beautiful! The nights are clear and cool with the moon waxing daily. It was a great day for Zen on the Bay today!
October 9th
Repeat of yesterday, only less wind and smaller waves. It's motor time! And many hours later, I arrived back at Norview Marina in Deltaville. I used to get frustrated with days like today, but I have learned that the Chesapeake is a big place and at times the wind will take you far to a spot you want to visit and other times it will not. The latter is what motors do best, even on a sailboat! And sailors can still enjoy being on the water, listening to the waves, watching the wildlife, and the other boats. After eating canned fare the last three days on the boat, I got to go to a restaurant tonight; life is good.
October 10th, Columbus Day
What better way to celebrate Columbus Day than to sail! Garland and I used to meet at Smith Mountain Lake on this day each year. It was our ritual; if only our BSA bosses knew! I had hoped to get a short sail in today before pulling the boat out of the water at high tide. Alas, this morning, there was not the hint of a breeze on the water that would warrant raising a sail. So, it was time to prep SunShower for the ride home. It has been a fine trip. I got to explore two spots I've had on my list for years and got several outstanding days under sail. Can't wait for my next trip in the spring!
Tom
- Posted using BlogPress. from my iPad