Decades pass and people ebb in and out of our life; parents, siblings, grandparents, children, friends, school mates, colleagues, neighbors, son-in-laws, etc.
They celebrate the good times with us and support us in times of trial.
So it was great to gather wives, daughters, son-in-law, brother-in-law, friends and even a grandson at the Bender Lake House this weekend, to celebrate Memorial Day and Jeff's 60th birthday.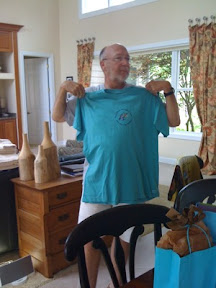 The water was still a bit chilly, but some folks swam.
Some people dressed funny!
Some people went boating; great hot sunny days for motor boating but alas...no wind for the sailors.
Henry has a new favorite word, "Jet Ski."
Some people fished and Henry earned his SML shirt for catching (sort of) his first fish from the Bender dock.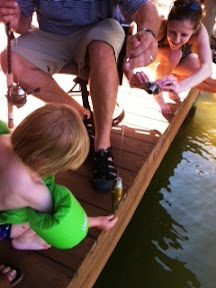 The food was grand and the drink plentiful. Jenny, I really appreciate all the time and effort you commit to making all of us feel welcome and making sure our visits are exquisite!
Jeff, your first six decades brought much success and many blessings. I wish you the best for many more years of health, happy times and exciting adventures!
Love,
Tom
- Posted using BlogPress from my iPad