I thought about salmon But I really wanted to cook a "Butt Chicken" and Kathy surprisingly gave me permission, said Dick as he carried his prize creation from the grill to the kitchen for carving.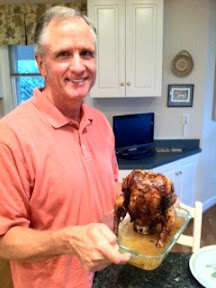 So what exactly is a Butt Chicken we inquired? Well, it's a manly recipe. You get a can of beer, crack it open, drink about a third, and stuff it up a chicken's butt to serve as a base to set it on the grill. Rub it with some seasonings and cook 35 minutes per pound at 350 degrees. The juices drip onto the coals to provide smoke and the beer evaporating keeps it moist!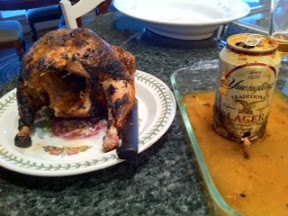 Choice of beer for the night was Yuengling lager, quite appropriate for friends who grew up four miles from the original brewery. It seems to me that Butt Chicken could take on a regional flavor; perhaps for central Virginia using Starr Hill beers from Crozet since they recently began using cans for several of their brews! For those with more bourgeoisie tendencies, have no fear for Butt Chicken can be in your future as well! Williams Sonoma sells a ceramic base you use in a similar fashion to the beer can, and you can fill it with your favorite wine, bourbon, or even hundred year old scotch.
Add a salad, corn pudding, and a home made peach pie to the menu and there was fine dining at the Pumphrey's tonight. Thanks for the evening guys; great food and friends, remembrances of our kids when they were the ages of our grandchildren, and Beatle's music to transport us back to our middle (or in one case elementary) school days!
tom
BTW My choice of Starr Hill beer would be Northern Lights!
- Posted using BlogPress from my iPad