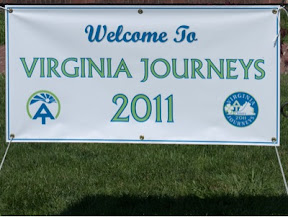 Gretchen and I traveled to Emory and Henry College this weekend to attend the ATC biennial conference and to help man the hike desk. Our friend David was co-chair and his team did a marvelous job organizing the conference. We worked for Pat who did an excellent job coordinating the hiking program. The hundreds of hours each of them spent (plus many other volunteers from other hiking clubs) was evident as the conference got under way without a hitch with over 950 people attending!
NBATC was in charge of the hiking program and many members were involved as hike leaders, and folks manning the hiking desk (Emily, Bland, Leonard, Joe, Pauline, Gary, Laurie, Jinx, Norman, Sam, Sharon, Sue, Ralph, T, Marjette, Mike, Liz, Sarah, Shannon, Bev, Barbara, Patti, Liz, Robert, Bill, Laurie, Mary Jane, Ed, Ellen, Laura, Trudy, John, Marilyn, Nancy, Bruce, Jason, Jordan, Jim, Nora, Francie, Tom). I am sure there were other NBATC folks who attended who I did not see or who came later in the week but NBATC was well represented. Please note that volunteer commitment like this is what makes it possible for ATC not only hold the biennial conference, but also to maintain a 2000 mile foot trail along the spine of the Appalachians!
Having left my hiking days behind me due to foot and knee problems, I must say I felt like a "stranger in a strange land" because this conference is so different from the ones I attended as an educator. I am used to conferences where everyone congregates in a central location each day and one runs into old friends and colleagues throughout the day in meetings, exhibits, and sessions. However, at this conference, most people are out hiking everyday, and there is little activity at the conference site until late afternoon and evening. However, different as it may be, people have a great time and connect with old friends via the hiking program, training sessions, meal times and evening social events. It was also interesting to hear folks tell me at the hike desk that they have hiked with Laurie at the conferences for years, or that Norman is the best hike leader and they were looking forward to hiking with him again later in the week!
BTW, if you are traveling on Interstate 81 near Abingdon, VA, stop at Heartwood; a brand new cultural arts center modeled after Tamarack in West VA. It is a beautiful building, with fine galleries, a coffee and wine bar and a restaurant.
Ever hear bluegrass piano? The entertainment Saturday night was Wayne Henderson (guitar) and Jeff Little (piano). They were super and you can check them out on iTunes.
Tom
- Posted using BlogPress from my iPad