Pine Creek flows through a beautiful, forested canyon in north central Pennsylvania (Tioga County). It is a remote area with a rail trail running nearly 60 miles along the creek. The area was the source of timber used for Philadelphia's construction in the latter part of the nineteenth and early twentieth centuries. The timber industry brought wealth to Wellsboro (a quaint, well kept town to this day) and Williamsport, the shipping port for the timber to points south.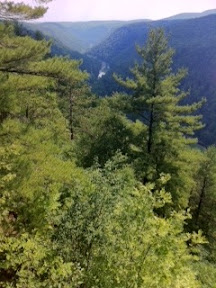 Priscilla, Phil, Gretchen and I drove to Cedar Run Saturday morning and pedaled north on the trail. The trail is extremely well maintained by the PA Department of Forestry and very pretty; a nature lover's paradise! It reminded me a lot of the Greenbriar Trail in WV.
We rode out to Darling Run and back (42 miles). We stayed at Cedar Run Inn, a mature inn with old fashion simple country rooms. It was a very clean establishment with a nice dining room, friendly staff and a fine breakfast!
After cleaning up, we headed to the Slate Run Inn for dinner; Pris and Phil's favorite restaurant in the area. Chicken parmesan, fresh trout and several rounds of beer got us refueled and rehydrated for Sunday's ride. The Slate Run Inn serves really good food in a nice atmosphere.
Sunday's ride was portrayed as a 24 mile ride to Camel and back but we knew that would never happen since someone in the group has a computer that is not turned on all of the time and needs to log even multiples of ten miles before a ride can be deemed complete. So we rode on beyond Camel to ensure a 30 mile ride at day's end! A refreshing dip in Pine Creek readied us for the trip home. Before we headed south, Phil took us to a beautiful overlook of the Pennsylvania Grand Canyon at Leonard Harris State Park.
The park was built by the Civilian Conservation Corps in the 1930s and the view point was directly above (~1000 feet) the Turkey Path Trail junction near Saturday's turn around. When I visit spots like Leonard Harris, I think of all of the great monuments the CCC built around the USA while employing a generation and teaching them how to work. I wonder if it is possible to get the ranks of today's unemployed to do the level of manual labor the CCC required; to leave a CCC type legacy for the country?
Sisters at the Slate Run Inn!
Many thanks Pris and Phil for planning a wonderful cycling adventure. We love our time together on and off the trail!
tom
- Posted using BlogPress from my iPad