Traveled south to visit Kelley and Seth this weekend in Longs. We had a great visit! Friday night we dined at Bistro 90; a really good Italian restaurant not far from the Hill home. Saturday we toured the area, around North Myrtle Beach.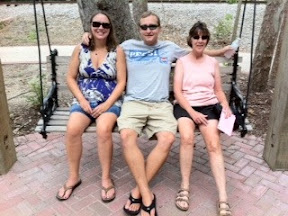 Conway has a quaint downtown with a boardwalk along the Waccamaw River. We had a wonderful dinner with lemon shrimp pasta and SALMON grilled to perfection!
Good weather today found us heading to the intracoastal waterway.
I had never traveled on the waterway and was surprised with how many restaurants, marinas, and beautiful homes lined the shoreline. It seems a house on the waterway really makes sense in a lot of ways for people who want to live at the shore. It is protected by the beaches and lowlands from the onslaught of the ocean, and you can have a dock and a boat! We traveled about ten miles up the waterway stopping at a beautiful beach across the inlet from Bird Island. Thanks for a wonderful day on the water Kelley and Seth.
We reluctantly headed home on Monday. It was great to see Kelley is having a healthy pregnancy and it will not be long before "Little Hill" makes an appearance! Mom and I hope all continues to go well, Kelley! I can't believe how much weight the baby gains every week for the next six weeks. Also, it's good news that Seth is nearing surgery that will put his back issues behind him; hopefully for good!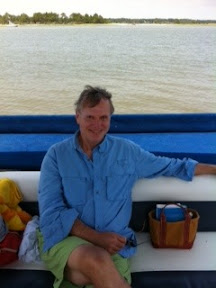 We'll look forward to returning to Longs again in October!
tom
- Posted using BlogPress from my iPad