It is Henry's third birthday and where are we? At a gymnastics school of course, with kids (and parents) running, jumping, squealing, laughing and swinging.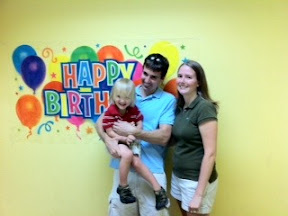 The scheduled time in the gym is one hour and as time goes on, the din subsides and the kids slow down and it is evident that an hour is just the right amount of time. So now it's on to cake and presents!
Gymnastics is a good idea for a party for three year olds. They have a lot of fun, they're contained in one place, and they wear themselves out which makes bedtime a more pleasant experience! Happy birthday Henry, Grandma and I can't believe you are three and such a big boy!
I stayed on to watch Henry because his preschool had a teacher workday and we went to the Life and Science Museum in Durham. What a great place. We spent nearly four hours there and never got to the main building; touring the Butterfly House and outdoor sections.
Henry's impressions? He loved the train ride! Told his mom the butterflies hatching from their cocoons were scary and after him. And he loved the trucks in the sandbox where we spent over a half hour.
Henry, you are just a good kid. I love going places with you and being your PaPa!
- Posted using BlogPress from my iPad