The day to launch
Droplet
, our Seahopper folding dingy make in Sommerset, England, finally arrived this weekend!
Droplet was looking quite spiffy in her new varnish! Jenny and Jeff joined us for the day helping to put Droplet through her paces.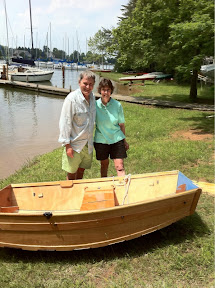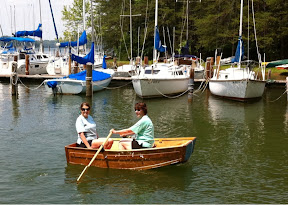 Our initial impression is Droplet is easy to launch, very stable, rows well and two adults can travel easily in her. The only issue was a little water seeping in around the centerboard trunk which we'll hopefully rectify this week.
SunShower was eager to take her little sister for a tow so we headed out for trials under power and sail. Droplet towed well, tracking directly behind SunShower and handling large motorboat wakes with ease. Her light weight did not have any noticeable effect on SunShower's speed under power or sail.
Back at the Bender lake house, Jeff and I took turns honing our rowing skills. I felt like I was punting on the Thames! Jeff declared afer his turn that he was a
changed man
and was going to paddle his kayak a lot more fishing for stripers off the bank!
We were really pleased with how Droplet handled under oar and tow. She seems to be what we expected and will allow us to have a tender for SunShower that is feasible to transport to the Chesapeake Bay and tow on our sailing adventures.
Tom
- Posted using BlogPress from my iPad